One of the main services we offer to the entire expat community is the professional management of Colombian visas. Our expatgroup.co team has more than 10 years of experience and the best disposition to assist you in getting your Colombian visa in case you want to have a legal stay beyond the 180 days of tourism allowed. (TOURIST VISA: Extend your tourist stamp and stay in Colombia!)
For us, the most important thing is to have happy clients. Therefore, we try to provide the best quality in all our processes with a competitive price.
Also, we offer an entirely digital system so that you can acquire this and all our services with a just few clicks away. In other words, we can give you our support 100% online and remotely without affecting the quality or success of the process, on the contrary, we make it easier and faster for you.
A year ago, we partnered with Medellin Guru seeking to provide timely solutions to the needs of foreigners, who want to come and stay in Colombia to study, work, reside or do business in the country. As Jeff explains in his blog, the purpose of this alliance is "… offer a very competitive visa service".
---
We know that Medellín Guru is a reference for the entire community of foreigners in the country and that before publishing any information or establishing alliances, he takes care of every detail and investigates thoroughly to give the best to his community.
So, why are we the Medellin Guru's partner for Colombian visas?
At expatgroup.co, our visa service has several benefits, such as the following: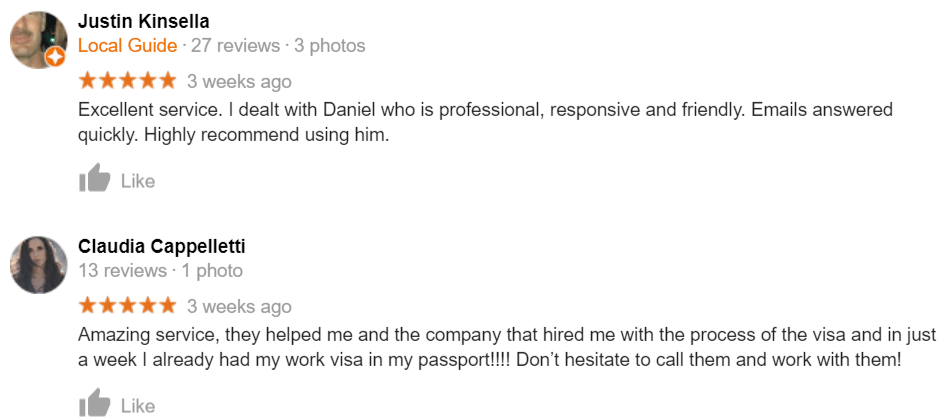 Automatic quotes: You can get a quick and complete quote with the requirements and prices of the service you need. Completely online here.
Virtual counseling, call scheduling or in-person appointments to discuss the visa requirements and process. (request for appointments)
Online chat through the website and online-enabled for quick advice through WhatsApp.
Office for face-to-face attention and reception of correspondence in El Poblado, in the city of Medellín.
English advisor if you require it.
Competitive price compared to other visa agencies. (Visa Agencies: 2020 Guide to Visa Agencies in Medellín and Colombia)
Preparation of documents, forms filled and professional documents reviewing to increase the chances of success.
Online visa application.
Visa stamping service in Bogotá: when your visa is approved, we will take care of stamping it in your passport and returning it to you.
Assistance with the visa registration before Migración Colombia and application to obtain your "cédula de extranjería" (ID card).
---
We reviewed all the Colombia visa agency services in Medellín. And we found one agency – expatgroup.co – which offers more efficient visa services with more features and more comprehensive communications including online chat, WhatsApp, Skype, email and phone plus a low price and a convenient office in El Poblado.

Medellin Guru Visa Service: Providing Colombia Visa Services
In the last year, we have attended more than 2000 requests from foreigners from more than 34 different nationalities.
How to get the Colombian visa service?
If you have any questions, you can contact one of our advisers through the chat on our website or through.