Recently, in our blog Attention: U.S. Embassy in Colombia suspends Benefits Verification, we shared with all our expat community, the news that the issuance of the benefits letter from Colombia by the American Embassy was suspended. 
This has a great negative impact mainly for those Americans who already have a type M Retirement visa and need to renew it from Colombia, as well as for those who are in the country as tourists and wish to apply for the visa to have a long-term legal stay in the country.
But don't worry, at expatgroup.co we have the solution thanks to our new service of US Benefits Letter Apostilled from Colombia, read on for all the relevant information!
What is the Benefits Letter?
The Benefits Letter is the document that certifies the amount of money that a U.S. citizen receives each month as a life pension, either for retirement or disability, from a public or private entity.
Why is the Benefits Letter important?
How must the Benefits letter be issued and legalized to be accepted by the Colombian government?
Initially, the document could be obtained directly through the American Embassy in Colombia, and the information contained therein was duly updated, validated, and delivered in Spanish. This document was 100% accepted by the Colombian government for visa purposes during the last few years.
However, currently due to the suspension of this service by the American Embassy, the letter of benefits requires the following strict process to be accepted in the Colombian visa application:
1.  Issuance of the updated benefits/pension certificate (ideally maximum 1 month of issuance).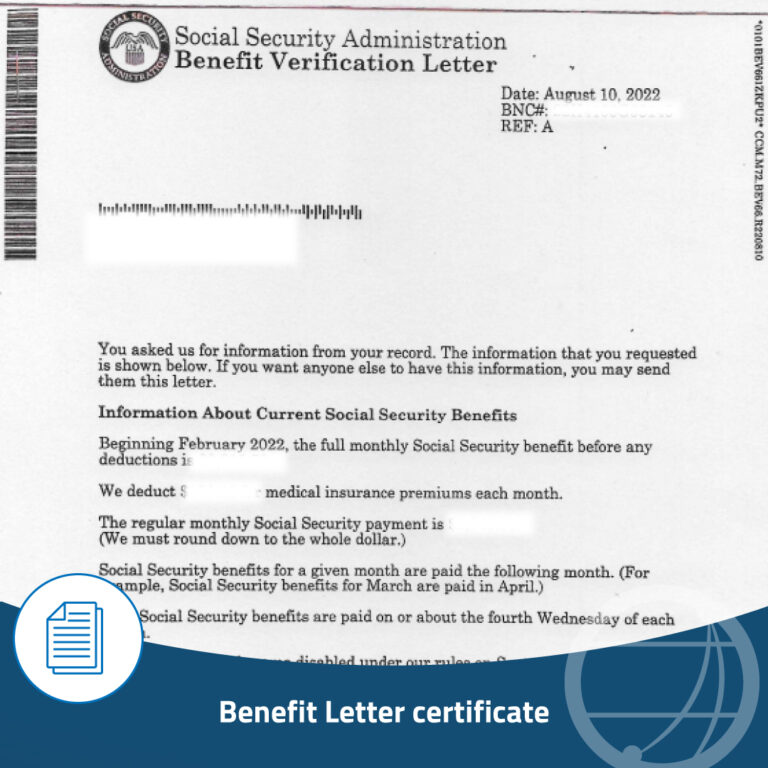 a). Benefit letter certificate
2. Authentication of the signature on the document by a Notary Public in the United States
b). Authentication of the signature
  3. Apostille of the document issued by the Department of State
c). Benefits letter apostilled
4. Official translation from English to Spanish
How can expatgroup.co help me
my US Benefits Letter Apostilled?
We know that the apostille process is often time-consuming, complex, and costly. So, to make our customers' lives easier, now at expatgroup.co we introduce our new service: US Benefits Letter Apostilled from Colombia.
Benefits letter apostille service expatgroup.co
Authentication with U.S. Notary

Official translation (2- 3 pages maximum)
Remember that in addition to helping you with the apostille of the benefits letter, we offer you our specialized service of type M Retirement visa, to save time and money while increasing the chances of success in obtaining your legal permanence in Colombia.
Our customers
prefer us
At expatgroup.co our services are designed with you in mind. That is why we have the best experts in the field for your peace of mind in the processes. We guarantee a quality service and efficiency, because we are the No. 1 agency in Colombia.