If you are interested in buying health insurance, either comply with the new requirement of Resolution 5477 to apply for your Colombian visa or have your health assured while traveling. We recommend the various plans that Assist Card has for you.
Below we explain the step-by-step process to get your Health Insurance with Assist Card.
Step-by-step to get your Health Insurance
Click on the following link:
https://www.assistcard.com/co/b2c/health-insurance-colombia
2. Check and download the coverage of all plans to see what is included in each plan.
3. If you are interested in quoting your health insurance:
1. Enter the date of departure and return to the country.
2. Enter the number of passengers
3. Indicate the age of passengers
4. Click on Quote now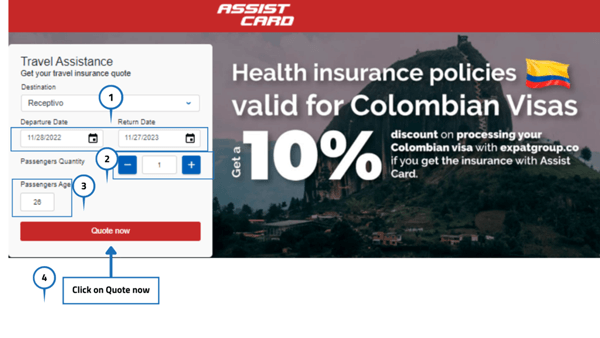 Choose the best assistance plan: once you click on Quote now you will be able to see the recommended plans according to the information filled in.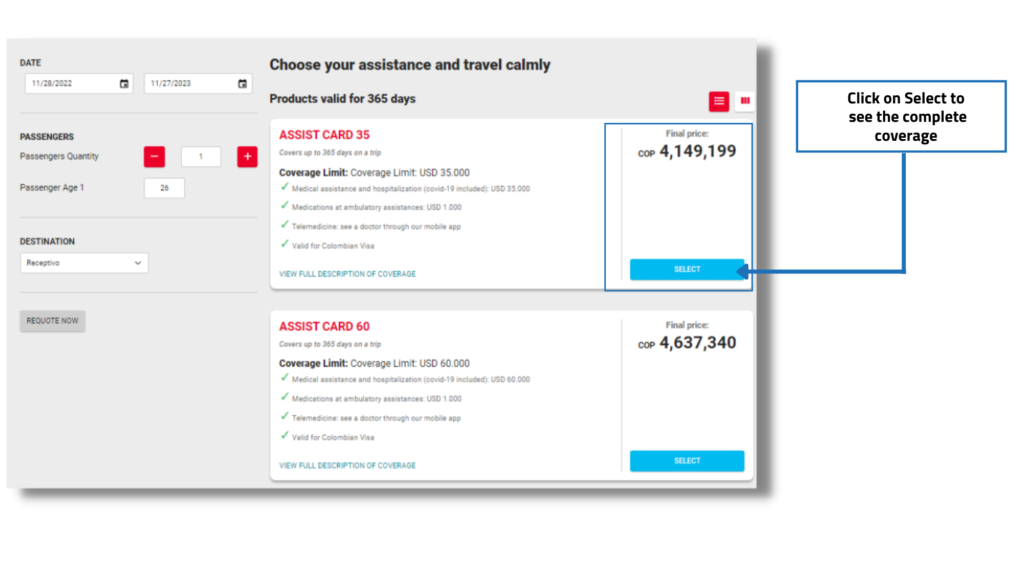 This will show the complete coverage. If you are interested in this plan, click on Buy, otherwise click on Close so you can see the other available plans.
Enter the passenger information:
1. Fill in the personal information of the traveler(s).
2. Enter the information of the person who will receive the voucher here.
3. Here, you will see a summary of the purchase: validity, assistance plan, and cost.
Remember that the date of birth must match the age previously entered.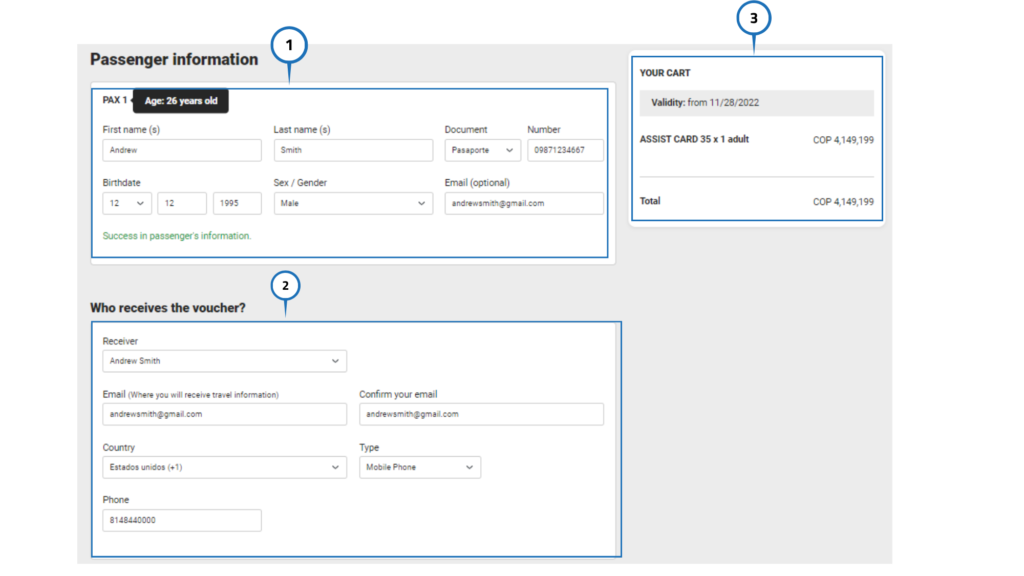 Continue with the payment:
1. Read and accept the terms of service.
2. Verify the details of the purchase.
3. Add additional services to enhance the current plan (optional).
4. Click Buy to continue with the payment.
Please remember to select 1 fee by default.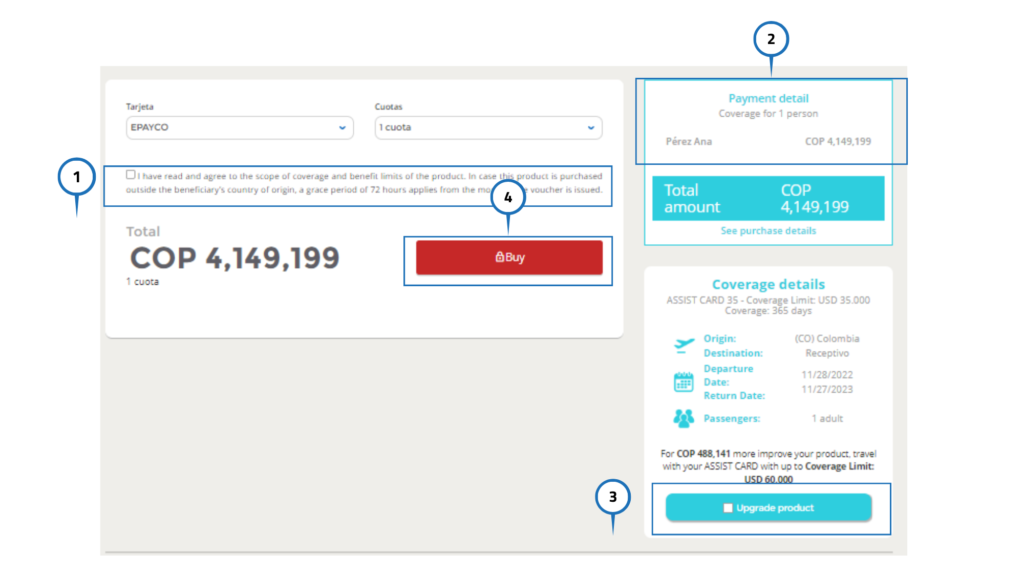 1. Enter the e-mail address where all the payment information will arrive. Click on Continue to enable the payment methods.
2. Select the credit card payment method.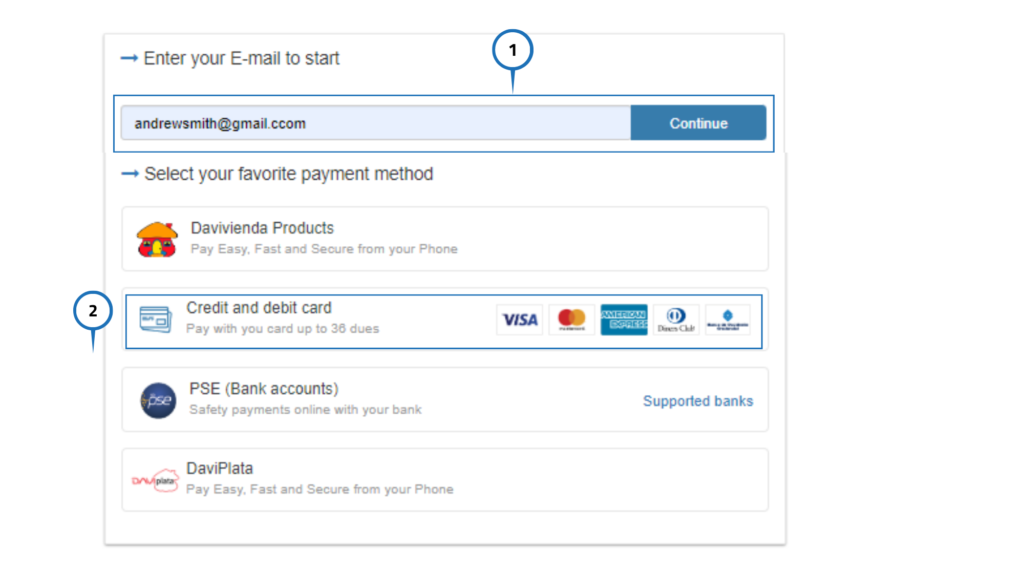 Make the payment by credit card
Enter the details of the person making the payment as they appear on the credit card, i.e., if a person other than the traveler
is making the payment, the details must be that person's details.
Example: The traveler is Andrew Smith, but the payment will be made by his relative Joseph, Joseph's card details should be entered here.
Once the purchase is completed, you will receive a payment confirmation by e-mail.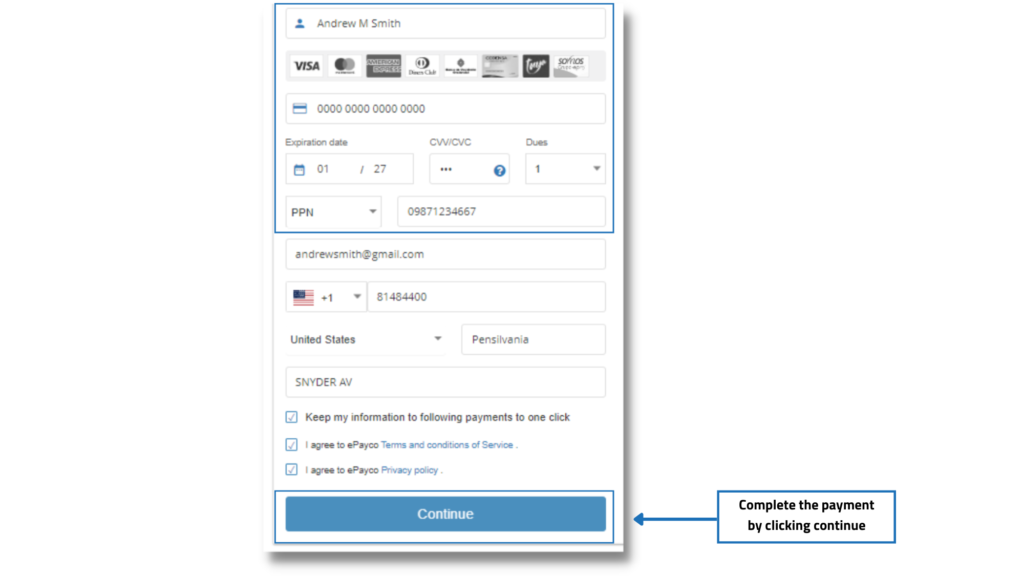 This is how the purchase of health insurance with Assist Card is completed.
Once the purchase is completed, you will receive a message to the cell phone number in the form confirming the purchase. In addition, you will receive an e-mail with a medical assistance E-voucher as the following example.
With the above step-by-step, you will be able to successfully get an insurance with:
1. Excellent coverages.
2. Guaranteed integral medical assistance.
3. Coverage of health care expenses ensuring your health wherever you are.
4. 24/7 protection.
5. Authorized by the Colombian government for Colombian visa application.
Contact us