Note (as of May 25th): In accordance with Resolution 1296 issued as a resulted of the COVID-19 pandemic on 21st April 2020, the Colombian government will not be accepting visa applications from Colombian consulates or embassies, regardless of their class or category. Colombian business visa applications from applicants outside of Colombia will not be accepted until further notice.
During the fourth quarter of 2019, Colombia's foreing direct investment (FDI) grew by over $3.7 billion dollars – representing an approximate $440 million increase in FDI from the previous quarter.
Although Colombia currently finds itself in a tricky spot with the economic implications of COVID-19, the favorable foreign exchange rate and previous spirals in FDI still make Colombia an attractive investment opportunity for expats.
There is a growing number of foreign nationals migrating to work and live in Colombia, making the most of the d highly-skilled workforce and tech-savvy users. Likewise, the infrastructure of Colombia's major cities like Bogotá and Medellín has gone from strength to strength in the last 10 years.
For those interested in starting their own business and asking — 'Do I need a business visa in Colombia?' — the answer is yes. And the best way to ensure getting the M-6 business owner visa is through an experienced visa services agency that has already guided hundreds of people through the same process.
As an initial guide, we have explained the basics for how to get a business visa in Colombia.
The Colombian Business Visa Checklist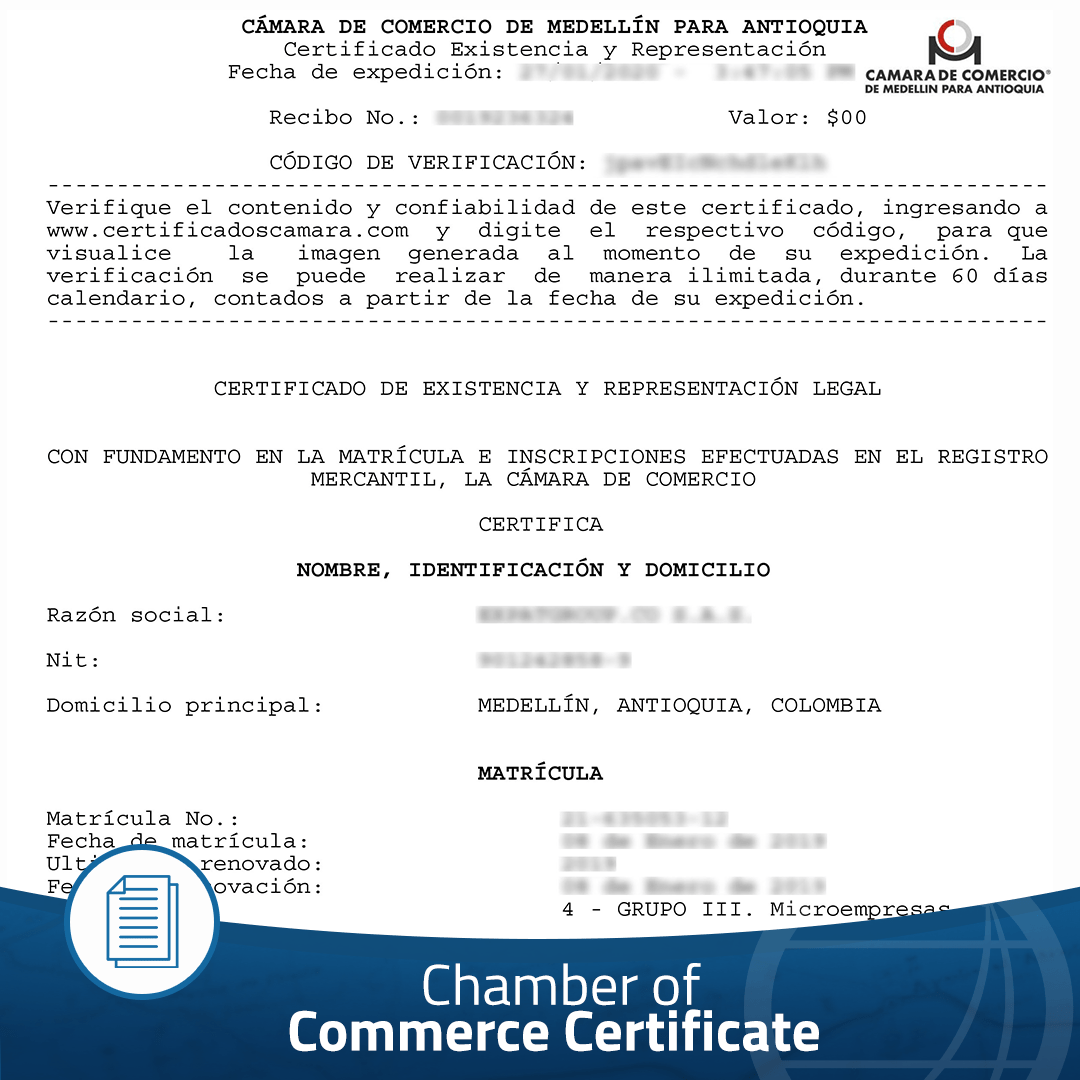 Starting a business in Colombia requires certain actions.
Firstly, foreign nationals who are starting a business in Colombia must have the following information and documentation completed when applying for the M-6 visa:
A valid photocopy of the front page and entrance stamp page of the applicant's passport. If the applicant already has a different valid Colombian visa in their passport, they must send a photocopy of this. The passport also must have at least 2 pages free.
2 passport-style color photographs against a white background with the dimensions 3×3 cm.
An introductory letter from the new business' legal representative.
A certificate from the Chamber of Commerce stating that the value of the new company exceeds 100 times the value of the Colombian minimum wage (roughly $87.000.000COP, or $23,000USD)
Supplementary documentation that provides evidence to the Chamber of Commerce's certification that the new business' valuation exceeds $87.000.000COP
An F-4 exchange declaration
A shareholders composition certificate from a certified accountant
The accountant's professional and national ID
A report detailing the accountant's professional background
Certificate of Foreign Investment (Optional)
Personal or existing business bank statements
Applicants then have to fill out an online application on the government migration website Cancillería. The application takes around 30 minutes.
Colombian Legal Representation: What's Needed?
As a foreigner starting a business in Colombia, a legal representative will need to show that the person applying for the business owner visa has the resources and intentions to successfully run a business in Colombia.
The introductory letter will state the applicant's position held in the business, which must have a title of 'Manager', 'CEO', or one that shows they will be the responsible for running the company. The introductory letter will also show the entrepreneurial activities the applicant will undertake over the duration of their business owner visa.
The Chamber of Commerce certificate will state that a new business — in terms of paid capital, physical capital and intellectual capital — is worth more than 100 times the Colombian national minimum wage. This means that a legal representative needs to prove the value of a company is more than $23,000 USD. A quality legal services agency will be able to provide evidence that — while an applicant might not have $23,000 USD in a Colombian bank account — the physical assets (ie: land, property) and the intellectual assets (ie: the business' brand) of the business exceed the minimum requirements.
To avoid the trouble of trying to find credible legal council, use a trustworthy legal and accountancy services agency that has its own experienced lawyers and knows the ins and outs of the Colombian business visa requirements.
Colombian Accountant: What's Needed?
To get a Colombian business visa, applicants with a new business idea need a certified accountant based in Colombia.
When applying for the M-6 business owner visa, applicants need their accountants to set up a shareholders composition certificate, detailing the company address, company name and company NIT (Número de Identificación Tributaria) number. This must be completed before applying for the visa.
As well as this, the accountant will have to submit their own professional and personal ID, including a professional background check confirming their competency as a financial administrator.
Use a well-skilled accounting service agency that is knowledgeable in the shareholder composition certificate process.
Starting a Business in Colombia Made Easy
The Colombian business visa requirements for new business applicants can be lengthy and complicated.
The Colombian government asks for a number of requirements to be fulfilled in an application, meaning that the chances of making a mistake are easy for inexperienced applicants. When searching for a top-quality lawyer and accountant to help complete the necessary documentation, this can also be difficult, especially if an applicant is new to Colombia.
For the reasons cited above, we believe that using a respected migratory, legal, and accounting services agency can best mitigate problems when applying for an M-6 Colombian business visa.