The Ministry of Foreign Affairs has just granted relief for foreigners who are currently outside of Colombia through the Resolution 1585 of June 24, 2020.
During April, according to the regulations of the State of Emergency and under the concerns of COVID-19, the Ministry had issued Resolution 1296, with which it ordered the closure of the Colombian consulates abroad and suspended the visa procedures for foreigners who are outside the country.
However, recently the Foreign Minister, Claudia Blum, issued a new resolution from which the visa applications of foreigners who are currently outside of Colombia are reactivated.
This is Resolution 1585 of June 24, 2020, that we share below: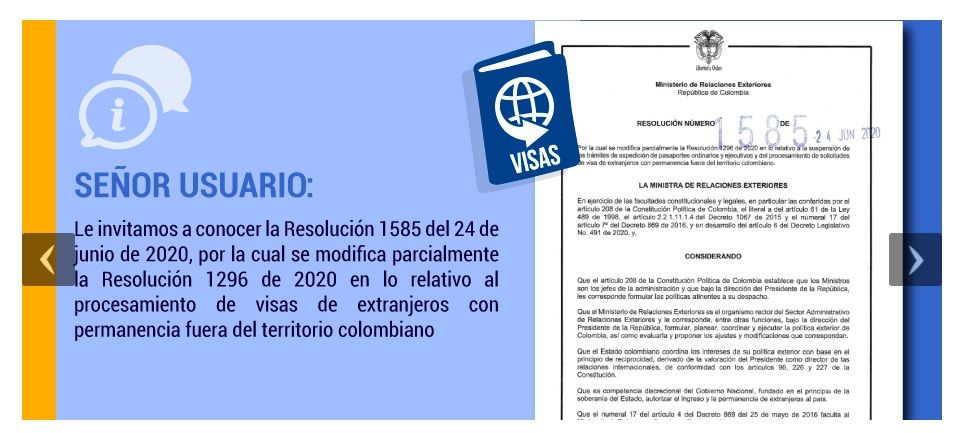 Article 1.
Lifting of the suspension of the visa applications. Lift the suspension referred to in Article 2 of Resolution 1296 of 2020, for the processing of visa applications by foreigners staying outside of Colombia.
Foreigners' applicants and legal entities that support the application in Colombia are obliged to provide all the requirements that are ordinarily required in the regulations, taking care to supply all the documentation that supports the activity except for isolation.
Likewise, the consular officer responsible for the study of the request must record with due rigor in the electronic file, the basis for authorizing, inadmissible, or rejecting the request.
First paragraph.
The suspension in the accounting of the validity time of the visas provided for in article 3 of Resolution 1296 of April 21, 2020, does not apply to visas issued according to this Resolution.
Second paragraph.
For face-to-face procedures at consulates abroad, must be taken into account, the isolation or prevention measures decreed by each country of stay. So the processes can only be carried out if the sanitary conditions and mobility facilities allow.
So the reopening of consulates abroad is a relief for many foreigners amid the current crisis.
However, it is important to keep in mind that although the Ministry gave the green light to the Colombian consulates to operate, each consulate will define the mechanisms, times, and methodologies of care according to the protocols dictated by the country where it is located.
At expatgroup.co, we can help you make your visa application and provide you with our specialized advice.
Contact us for more information or quote your visa service now.