What may have started as a rumor or as something not so plausible in the expatriate community is now a reality, the Colombian digital nomad visa is already enabled, and better yet, they are already being approved. 
Therefore, we have had the privilege of having several successful cases so far, of different nationalities, with different professional roles, but with processes carried out by our team with satisfactory results.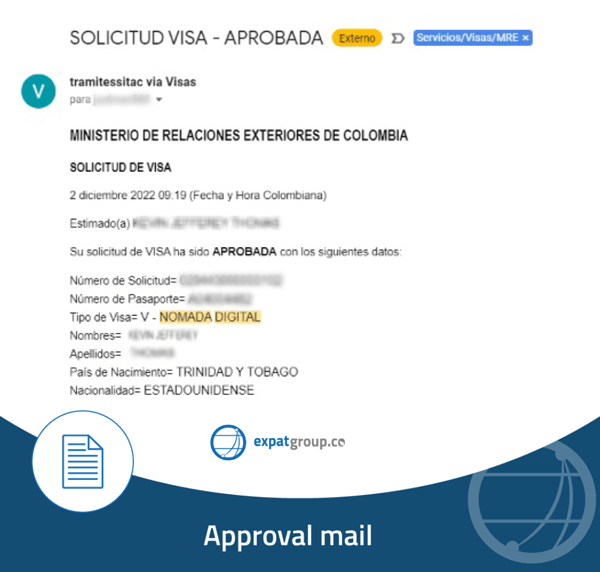 a). Approval mail by the Minister of Foreign Affairs
It is a pleasure for our team expatgroup.co to carry out new processes with the professionalism and quality that distinguishes us. Now, if you are considering applying for this visa, we have information that will help you.
What should I know about the requirements for the digital nomad visa?
As we already commented in our blog, here we share the application requirements for the digital nomad visa and some tips regarding these requirements again according to the success stories we have had so far:
b) Sample employment letter stating that the work is performed remotely
Download the official guide

on the Colomabian tax regime
What is the validity of the digital nomad visa?
According to Resolution 5477, the validity of this visa can be up to two years; however, the visas we have approved have been for one year, and until now, the visas do not include any restriction on the label.
We take this opportunity to remind our expat community that although through social networks and on some websites, it has been said that a foreigner with a digital nomad visa can only stay 180 days a year in Colombia, in reality, this is not true. Foreigners who get their nomad visas may stay in the country as long as they wish, even staying in the country for a full-time authorized visa. According to the resolution, this is a category V visa with multiple authorized entries and exits and no stay restrictions.
What should I keep in mind for a successful application?
We recommend that the documents that are issued abroad have the complete legalization chain to avoid delays in the process, that is to say, that they are updated, signed, authenticated, apostilled, and finally translated into Spanish in case they are in another language because although it is not required from the beginning of the process, the Colombian government may require it, besides this is a factor that can contribute to the probability of success. 
On the other hand, if you are in Colombia, we also suggest starting the process with time, at least two months before your stay in the country expires. The above since the government's response may sometimes take even more than 30 days, there may be requirements involving the need for apostille of foreign documents, which could extend the time of the process, so it is essential to avoid illegal stay.
Let your processes in expert hands
With more than ten years of experience and close to 3000 visas approved at expatgroup.co, we make sure to carry out processes with professionalism, quality, and attention to detail to achieve successful results.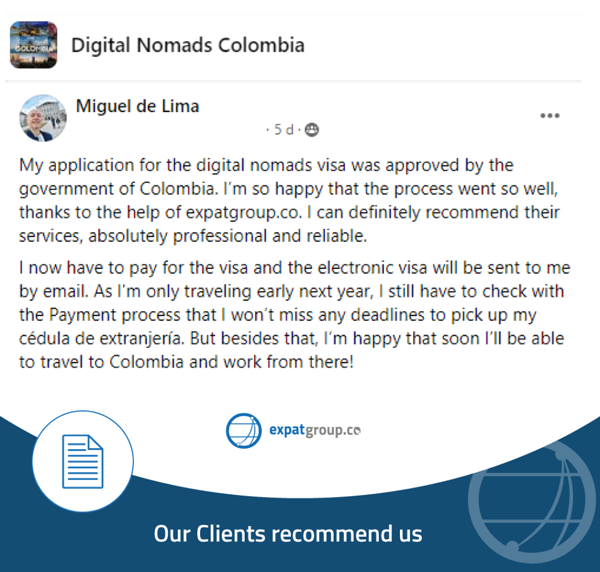 c). Our clients recommend us
Consult with our experts, and we will guide you through the process of collecting documents; we make the visa application, we are attentive to any requirement by the government, and we help you apply for your foreigner identification card (cédula de extranjería).
What are the costs of the
Digital Nomad Visa?
Check out what you need to know
about the Colombian tax regime
At expatgroup.co we understand how important it is to have reliable information. Therefore, we invite you to fill out our form to receive the free official guide to your email.
Why should
I use expatgroup.co services?
Visa Services expatgroup.co
Includes migratory advisory
Visa submit and registration
Registering visa / requesting "Cédula de Extranjería"
What are the valid
policies for the visa?