Health, considered as the physical, mental and social well-being according to the WHO, should always be within everyone's central concerns, especially when we are going to travel and stay for a season outside our country of origin, and even more so if we decided to reside in another country. 
Why is it important to ensure our health? 
To r

eceive quality medical care.

 

To

 

have

 24/7 

protection

.

 

It transmits tranquility from start to finish.

 

It also represents a potential saving of money and time.

 

It provides greater guarantees in case of an accident, illness, or unexpected events associated with health.

 
At expatgroup.co, we care about the well-being of all foreigners who want to come to Colombia for leisure, family, work, study, or business reasons, whether they stay for a short, medium, or long-term period, finally making Colombia their place of residence. 
For this reason, thinking about adaptability according to the profile of each foreigner, we offer various specialized health solutions, which meet the highest quality standards. Also, we make sure to provide you with the best advice in case you require insurance that is compatible and acceptable by the Ministry of Foreign Affairs in the Colombian Visa application. 
The travel insurance policy is a tool that protects the international traveler, not only regarding medical risks, but also provides comprehensive coverage regarding luggage, repatriations, legal assistance, refunds, among others. Which offers guarantees, security, and tranquility regardless of the duration of the stay abroad, the profile of the traveler, or the reason for his trip. 
At expatgroup.co, we have a first-class alliance with Continental Assist, a North American company dedicated 100% to providing assistance services nationally and internationally, which has worldwide support from the most prestigious networks of service providers, in the following areas: health, communications, legal, transfers, insurance, and reinsurance. 
The plans we offer have built-in services 7/24/365 worldwide and in all languages, by highly trained and experienced professionals, who also have a human and friendly character to guide and attend to any user need. 
What are the assistance plans available? 
Travel Plans
These travel assistance plans protect a round trip. Validity could be up to 120 consecutive days per trip.
Long Stay
Our extended stay plans are perfect for those travelers who want to enjoy a long trip abroad. If you travel for studies, pleasure, work, or any other purpose for a period greater than 60 days of travel and up to a maximum of 1 year, this is tailored to your needs.
Annual Plans – Multitrip
Annual multitrip plans are designed for those who travel frequently. These types of plans will protect you on each international trip you make during a calendar year, the only restriction is that it does not exceed the maximum number of consecutive days per trip of the selected plan. We have 3 subcategories of annual multi-trip plans, they are based on the maximum number of days per trip (30, 60, or 90).
PREPAID MEDICINE/SURA HEALTH INSURANCE
Prepaid medicine plans are a service through which the user decides to pay in advance and finance, the future expenses that he may have due to illness. The idea with these plans is to offer the user comprehensive health care, including consultations, exams, specialists, emergency care, hospitalization, and surgeries.
At expatgroup.co, we offer you special prepaid medicine plans with SURA, a leading company in Health Insurance in Colombia, with extensive experience and recognition in the market. SURA has more than 5,000 doctors in its service network, agreements with 400 hospitals and clinics, and more than 1,500 providers of different services.
What are the essential requirements to access a SURA prepaid medicine plan?
Maximum age of admission 62 years.

Children under 4 months must enter with at least one of their parents. After 4 months they can enter alone.

Have current EPS of the contributory regime.

Not being pregnant.

Not suffer any serious or high-cost illness at this time.
What are the benefits of SURA prepaid medicine?
Having Health Insurance provides peace of mind by allowing unlimited access to services that not only complement the Mandatory Health Plan, but also allow you to enjoy exclusive care and benefits such as the following:
Choice of the specialist of preference.

Organ transplant

Hospital surgeries and treatments.

Maternity coverage.

Laboratory exams.

High-quality coverage in diagnostic aids, imaging or radiology.
Prosthetics and unlimited supplies.

Single room in hospitalization.

Hospitalization and intensive care.

Chemo, radio and immunotherapy for cancer or leukemia.

Agreements with the best clinics.

Coverage abroad.
What are the SURA insurance plans available?
This plan is the indicated option in case you frequently go out of the country since it provides preferential care, as well as first-class medical and clinical services not only in Colombia but also abroad. With this plan, you will have access to innovative equipment, specialists of all kinds, and exclusive services.
The classic plan provides comprehensive care with all the necessary coverage and the best services for your peace of mind at all times, whether at the hospital or ambulatory level, including consultations with specialists and emergency or home emergency services. 
"Salud Evoluciona" is an adaptable health policy that allows you to access excellent service in an economical and agile way, thanks to hospital, outpatient coverage, and the innovative component of home care in emergencies, laboratories, and the wide network of quality providers that this plan offers. This is a plan that seeks to adapt to the specific needs of each user and their budget. 
Below, you can find the benefits included in each plan so that you can quote and consult us about the one that best suits your needs:
COMPULSORY HEALTH PLAN – EPS SURA MEMBERSHIP
The Compulsory Health Plan -POS, corresponds to the package of basic services in the areas of health recovery, disease prevention, and temporary income coverage, to which every resident in Colombia must be affiliated.
Who can join the EPS SURA POS?
Employees, retirees, pensioners and independent workers with their respective dependents:
Wife or permanent partner.

Children under 18 years old or up to 25 years old if they are studying, who depend economically on the contributing member.

Parents who depend economically on the contributor.

Parents and other relatives up to the third degree of consanguinity who depend economically on the contributor, paying an additional value.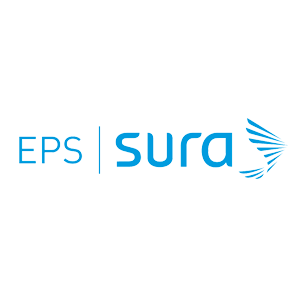 NOTE: Remember that if you have income in Colombia or abroad, you cannot appear as a BENEFICIARY within the POS, but you must have your affiliation as a CONTRIBUTOR in the contributory regime.
What is the cost to stay insured within the POS?
To be protected with this plan, you must pay a mandatory monthly fee that is paid shared between you and your employer (4% the member and 8.5% the company). If you are affiliated as "independent", you must cover 100% of your POS fee.