In this post, we explain the steps to start up a business in Colombia and successfully apply for a visa and immigration card.
The first step is the company legal establishment, which could be:
– A new commercial partnership.
– A foreign corporation branch.
The next steps apply for both cases, the difference will be reflected in the Company's Bylaws:
A. Chamber of Commerce Registration.
A public-private entity exists in every department in Colombia to administrate the commercial registers. Consult your department list here according to the city where the Company's headquarters will be.
Once identified the corresponding Chamber of Commerce, you must visit it with the Company's Bylaws (private document or public deed), PRE-RUT copy, Colombian ID card (Cédula de Extranjería) or passport copy of whose will become the company's Legal Representative, the company's Legal Representative substitute, board members, and shareholders. All this, to get the Commercial Registration and pay the registration taxes and duties.
Note: For commercial registration, the Chamber of Commerce will review the documents, it might take around 24 hours.
Now, we explain the prior steps to register the company before of Chamber of Commerce:
a. Consult if your Company's name is available in the Unique Business Register, Chamber of Commerce RUES, here.
b. Choose the most convenient legal structure for your Company activity (Limited Liability Company, Limited Company, Simplified Joint-Stock Company, Limited Partnership, Limited Joint-Stock Partnership).
Note: We recommend the LLC legal structure for the M type Investment Visa, with a subscribed capital over $84.000.000 COP per foreigner partner requesting a visa.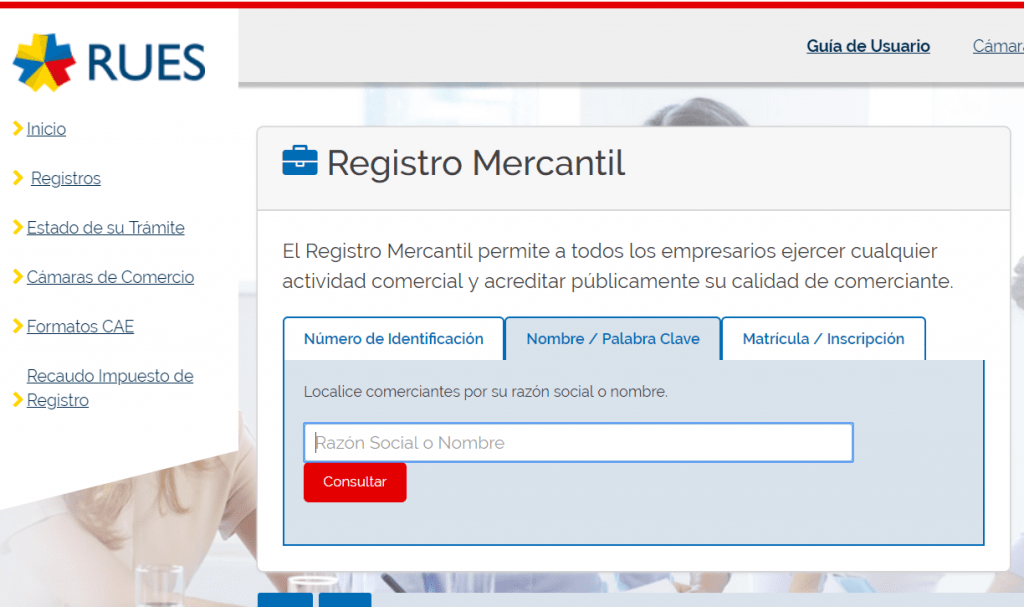 c. Delegate the company's Legal Representative, Legal Representative Substitute, Bookkeeper, Fiscal auditor, and Board members. Consider that some categories (S.A.S) do not require Fiscal auditor nor Board members.
Note: Despite S.A.S does not require Fiscal auditor in the beginning, it will be obligatory when the Company exceeds 5000 minimum wage in gross assets, or 3000 minimum wage in gross income.
d. Prepare, write y subscribe to the company's bylaws.
Note: If you create a Foreign Corporation Branch, a Public deed must be raised: 1. Head office abroad bylaws. 2. Competent authority certificate authorizing the decision of opening a branch in Medellín (Branch Opening Motion). 3. Documents certifying the staff members' authority to represent the Company (Certificate of existence and legal representation from home country).
Note: The Branch Opening Motion must show the following:
i. The branch name.
ii. The activities to develop by the branch.
iii. Assigned amount of capital, and capital from other sources if any.
iv. The branch address.
v. The activities time frame in Colombia and terms and causal factors to finish those activities.
vi. Designating a president, with one or two substitutes, to represent the branch in Colombia.
vii. Designating the Fiscal auditor, who must live in Colombia.
viii. Depending on the Company structure, the bylaws can be draft in a private document or public deed. In this part of the process is also necessary to write and subscribe to the approval letters agreeing the positions (Legal Representative, Legal Representative Substitute, Bookkeeper, Fiscal auditor, and Board members) assigned in the bylaws.
e. Check the United Nations International Standard Industrial Classification-ISIC, corresponding to your economic activity.
To check this, enter your economic activity keywords here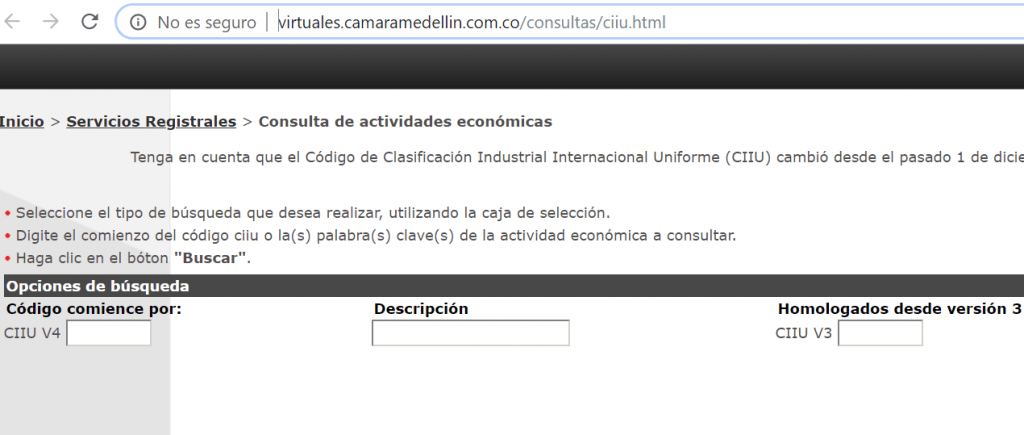 f. Fill the form PRE-RUT online Here
Note: We recommend a Bookkeeper advisory to complete the previous instruction.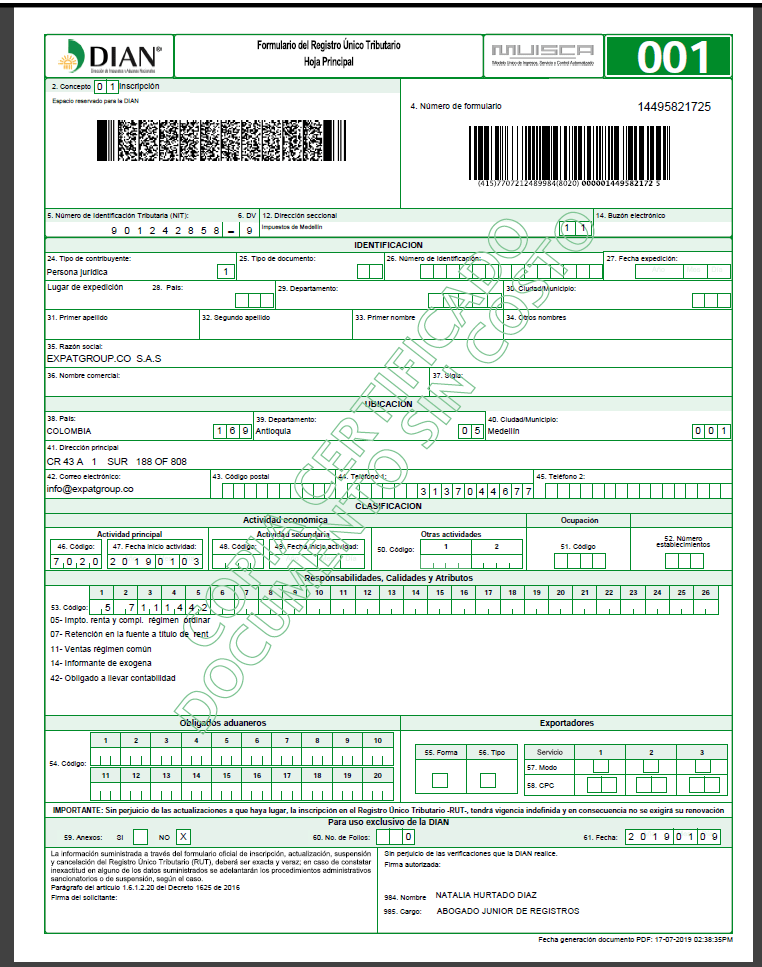 It is necessary that the Legal Representative is a fiscal resident in Colombia to open a business bank account, for a foreigner the following options are possible:
a. Designate a Colombian citizen as Legal Representative (this is not recommended because the person can have total control on the bank account).
b. Open the business bank account using a 'Broker', exclusively for Company capitalization. (In this specific case is possible with Passport).
c. Obtain a V-Type Business Visa and issue a 'cédula de extranjería', immigration card (the time of granting this visa is 8 days).
Once created the bank account, the investment capital must be injected in the Enterprise:
Send the capital from the bank abroad (Must be a personal bank account).
Receiving the money by the Broker or Local Colombian bank.
Foreign Exchange legalization by filling the forms F4, F5 or F11 as the case may be.
Foreign investment certification of Colombia's Central Bank Banco de la República.
Banco de la República Certificate. Document issued by Banco de la República emitting a written communication whereby the International Exchange Department informs about the foreign direct capital investment in Colombia, incorporated in the Statistical Exchange System of the Department, in the terms stipulated by the External Resolution 6045 of august 02, 2017 of Minister of Foreign Affairs.
In this document is issued an accumulated report from the foreign investor with investment details.
These are the requirements for the visa M type (Investment/Business):
Granting time
This is a Colombian visa issued by the Minister of Foreign Affairs for a maximum of three years.
Documents
Valid original passport with at least two blank pages.
Good quality picture 3×4 cm, white background.
Updated company's Chamber of Commerce showing authorized, subscribed and paid capital over 100 SMLMV ($83.000.000 COP).
Certificate of creation of the company's bank account.
Supports of the income to Colombia showing the capital amount reflected in the Chamber of Commerce as 'Pagado'
Form F-4 exchange declaration.
Banco de la República foreign direct investment certificate.
Supports showing the Company is operating and that the capital is being invested for the Company interest.
Certificate of shareholders' composition made by an accountant.
Photocopy of the accountant ID.
Photocopy of the accountant professional card.
Current certificate of disciplinary history of the accountant.
Company's bank statements for the last six months (*) only in case the company is not recently created.
Last company's tax statement (*) only for companies created more than one year ago.
Purchase invoices from the suppliers.
Commercial references from the suppliers.
Foreigner identification card
Once the visa is approved, the ID card must be requested at Migración Colombia web page, scheduling an appointment here, selecting the 'Cédula de Extranjería' service:
Cédula de Extranjería – Foreigner's identification card
It is an identification document for foreigners in national territory issued by Migración Colombia. This document is granted to foreigners holding a visa valid for more than three months and its use must be appropriate to the visa type authorized by the Minister.
If you want to obtain this document for the first time or need a duplicate for loss, damage or other reason, let us know to help with the process.
We are an interdisciplinary work team giving an integral service, going from the enterprise constitution and investment in Colombia legalization to your visa acquisition and foreigner identification card issue. Ask about our services associated with the different visa processes to let you know about costs and corresponding times.
NOTE: The Minister of Foreign Affairs can require additional documentation once reviewing your application, for example, certification of criminal background, original partnership contract, constitution document, company's financial information, among others. Consider that every document issued abroad will have to be apostille by d or legalized and, if not in Spanish, translated by a Colombian official translator. If this is your case, we can verify if the requested document can be issued by your country consulate in Colombia so that we can help to accomplish the Minister's requirement.
Important: Visa applications could be Approved, Required, Non-Approved or Denied by the Minister right to exercise discretion. If the Minister's response is different than Approved, it will be no place for a money refund for the application government fee nor our service fee. If the response is 'approved', remember that you have 15 calendar days to do the registration in Migration Colombia, after this deadline a fine can be imposed. The ID card has an additional cost, paid to Migration only by national or international card.
ANNEXE I: TAXES IN COLOMBIA FOR A S.A.S LEGAL FIGURE COMPANY.
| | | | |
| --- | --- | --- | --- |
| | Tax obligations SAS Colombia | | |
| | | | |
| Name | Description | RATE | Periodicity |
| Chamber of commerce renewal | Commercial register | % percentage depending on the assets | every year before march 31st |
| Income statement | The income tax has a national coverage and taxes the benefits derived from the company´s ordinary operations. The occasional earnings tax is complementary to the income tax and taxes the benefits derived from not ordinary operations. | Income tax: 33%1 para 2019 | Annual |
| Value Added Tax (IVA/VAT) | Indirect national tax over provision of services, sell and import of products. | Three rates depending on service or good: 0%, 5% y 19% | Bimonthly or quarterly |
| Excise tax | Indirect tax that charges the productive sectors vehicles, telecommunications, food y drinks. | 4%, 8% y 16% | Bimonthly o quarterly |
| Industry and Commerce Tax | Applied to industrial, commercial or service activities in the local jurisdiction, for a contributor with or without commercial establishment. Charged and administrated by the corresponding municipalities or districts. | Between 0,2% and 1,4% of company's income. | Annual, and credit monthly. |
| Signs and boards Tax | Is paid for installing signs in public space and is declared as a 15% of the Industry and Commerce tax. | 15% of the Industry and Commerce | Annual, and credit monthly. |
Annex II: JOINING EMPLOYEES TO SOCIAL SECURITY INFORMATION
Every legally-established enterprise in Colombia, when contracting employees legally, is in the obligation to affiliate and contribute social security for Health, Pension, Occupational health and safety (ARL), and Compensation fund.
Annexed percentages on the wage that must be contributed to each entity.
Contract: Full Time
| | | | |
| --- | --- | --- | --- |
| | Employer | Employee | Total |
| Pension | 12% | 4% | 16% |
| Health | 8,5% | 4% | 12,5% |
| Occupational risks- Level I | 0,5% | | 0,5% |
| Compensation fund | 4% | | 4% |
| Total | 25% | 8% | 33% |
More Information Here
And, using this platform monthly, contributions can be made to every entity where affiliations are made:
https://www.arus.com.co
REMEMBER: It is important that the enterprise operates, declares its taxes, and has transactions in the corporate bank account. That, in order to be able to renew your visa in the future.