Starting a Business in Colombia and Getting the Investment Visa: A Step by Step Guide - 2022 Update
In this blog, we explain the steps you need to take to start up a business in Colombia and successfully apply for an investment visa in 2022.
Let's start off by creating your business.
Whatever industry your Colombian business belongs to, legally establishing it is your first port of call.
The type of business you're looking to set up depends on the way you want to operate. For example, your business could be:
– A commercial partnership
– A branch of a foreign corporation
– A franchise
Once this has been established and added to your company's bylaws, you'll be able to register with the Colombian Chamber of Commerce.
Chamber of Commerce Registration
A branch of the Chamber of Commerce exists in each Colombian department. Consult your department list here and apply according to where your company's headquarters will be.
Once you've identified the correct Chamber of Commerce, you must submit the following:
Documents outlining your company's bylaws (private document or public deed)
Copy of the PRE-RUT, your Colombian ID card (Cédula de Extranjería)
Copy of your company's legal representative's passport
Written confirmation of your company's legal representative's substitute, board members and shareholders
When your application is accepted by the Chamber of Commerce, you'll need to register taxes and duties to formally register your company.
Note: The Chamber of Commerce can take up to 24 hours to review your application.
However, there are a few steps before registering with the Chamber of Commerce:
RUES and the Legal Structure of Your Business
1. Register your company's name. On RUES, you'll be able to see if your desired company name is available for registration.
2. Establish your company's legal structure. There are several ways to structure your business legally, like Limited Liability Companies (LTDA), Simplified Joint-Stock Company, and Corporations (SA). Check out our comprehensive guide to the legal requirements for setting up a business in Colombia for more information.
Note: We recommend using a Simplified Joint-Stock Company for the legal structure to the M-type Investment Visa.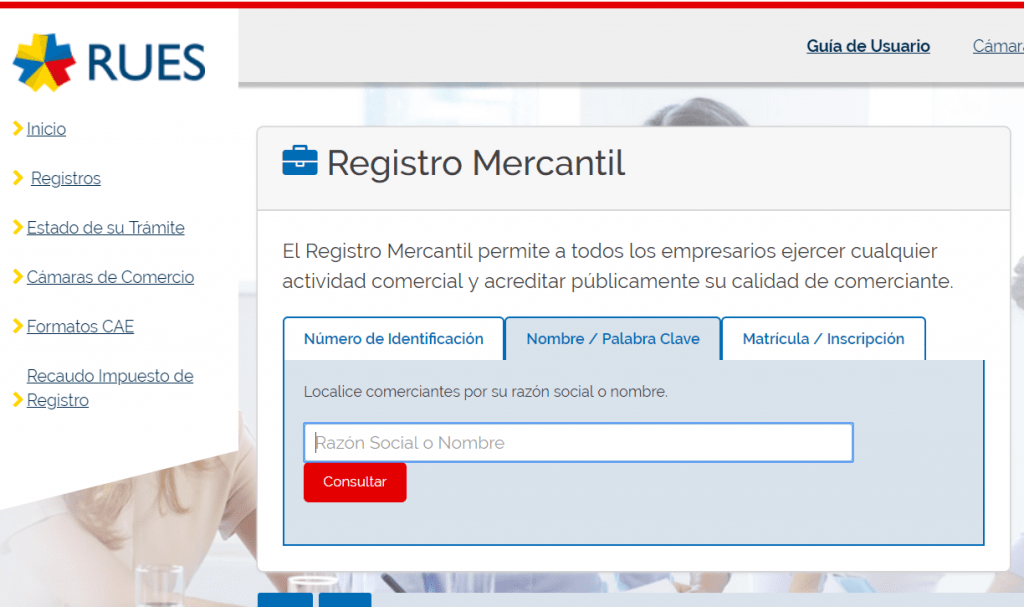 3. Set up your company's legal representative, legal representative substitute, bookkeeper, fiscal auditor, and board members. Remember that some business legal frameworks (like Simplified Stock Companies) don't require you to state a fiscal auditor or board members.
Note: Although Simplified Stock Companies aren't required to state fiscal auditors upon creation, it is obligatory if the company exceeds 5000 times the minimum wage in gross assets or 3000 times the minimum wage in gross income.
4. Write your company's bylaws.
Note: The Branch Opening Motion must show the following:
i. The branch name
ii. The activities to develop by the branch
iii. The amount of assigned capital, and capital from other sources if any
iv. The branch address
v. The activities time frame in Colombia and terms and causal factors to finish those activities
vi. The designated president with up to two substitutes to represent the branch in Colombia
vii. The designated fiscal auditor, who must live in Colombia
viii. Depending on the company structure, the bylaws can be drafted in a private document or public deed. In this part of the process, it's also necessary to write and notarize documentation that delegates the roles shown in part c.
5. Check the DIAN Commercial Activities Classification CIIU, corresponding to your economic activity.
To check this, enter your economic activity keywords here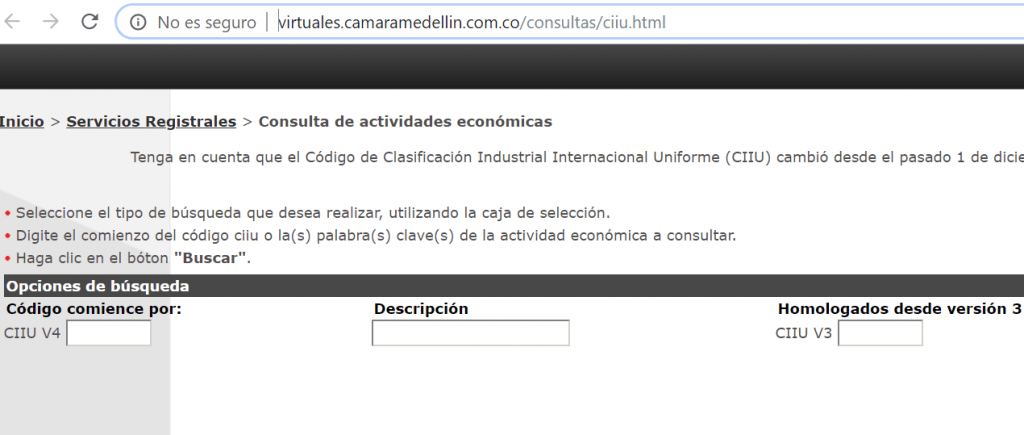 6. Fill out the form PRE-RUT online here
Note: We recommend using a bookkeeper to advise on filling out the PRE-RUT form correctly.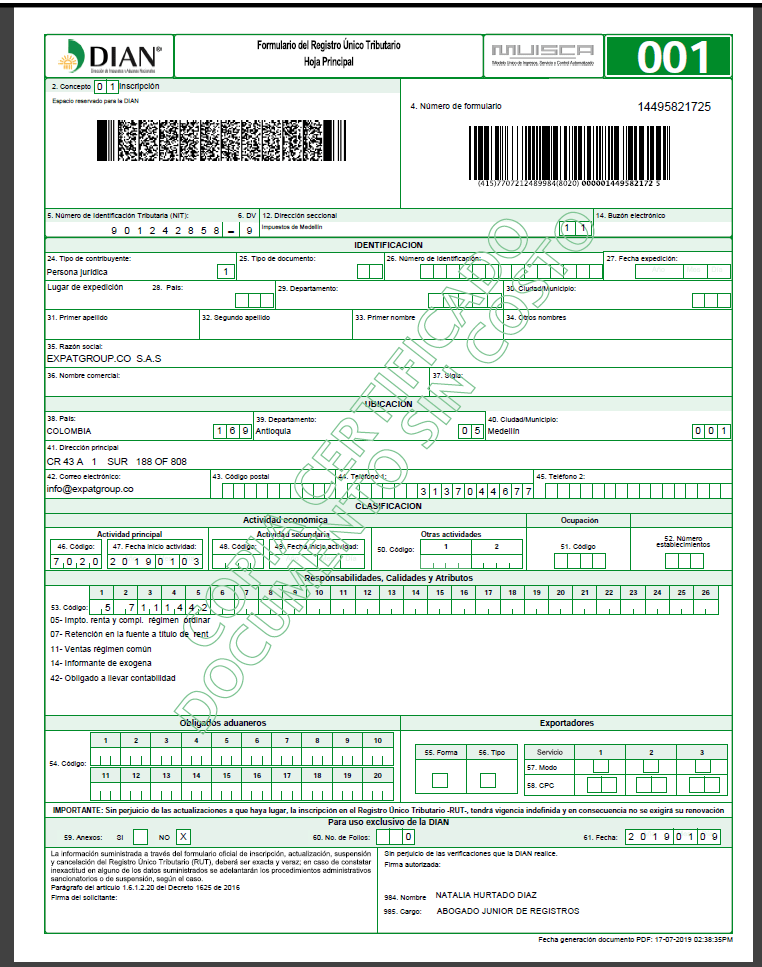 It's necessary for your legal representative to be living in Colombia. If they're not a Colombian citizen, they'll need to open a bank account and can use one of the following options:
a. Designate a Colombian citizen as the legal representative (this is not recommended since the person will have total control of the bank account).
b. Open the business bank account using a 'broker', exclusively for managing the company's financial capital (you can do this with a physical copy of your passport). Ask us, we can guide you with the broker account.
c. Obtain a V-Type business visa and get your foreign Colombian ID (Cédula de Extranjería). The process for getting a Colombian visa can take two or four weeks.
Once you've created your bank account, you need to deposit sufficient money into the account:
Send the capital from a foreign bank (must be a personal bank account).
Receive money from the broker or local Colombian bank.
Complete a foreign exchange legalization procedure by filling out either the F4, F5 or F11 forms (book an appointment with Expat Group for more information on the following).
Acquire foreign investment certification from Colombia's Central Bank Banco de la República.
Note: A Banco de la República certificate details your capital investment in Colombia. It is incorporated by the Statistical Exchange System of the International Exchange Department and is aligned with the terms stipulated by the External Resolution 6045 August 2nd, 2017 by the Minister of Foreign Affairs.
Colombian Business Visa 2022 Requirements:
The Colombian M-type business visa is issued for one, two, or three years.
Documents
Valid original passport with at least two blank pages.
Good quality picture 3×4 cm, white background.
Updated company's Chamber of Commerce showing authorized, subscribed and paid capital over 100 SMLMV ($100.000.000 COP / USD 27.000)
Certificate of creation of the company's bank account.
Supports of the income to Colombia showing the capital amount reflected in the Chamber of Commerce as 'Pagado'
Form F-4 exchange declaration.
Banco de la República foreign direct investment certificate.
Supports showing the Company is operating and that the capital is being invested for the Company interest.
Certificate of shareholders' composition made by an accountant.
Photocopy of the accountant ID.
Photocopy of the accountant professional card.
Current certificate of disciplinary history of the accountant.
Company's bank statements for the last six months (*) only in case the company is not recently created.
Last company's tax statement (*) only for companies created more than one year ago.
Purchase invoices from the suppliers.
Commercial references from the suppliers.
Requesting your foreign Colombian ID card:
Once your visa is approved, you need to set up an appointment to get your foreign Colombian ID card at the Migración Colombia web page. Select the Cédula de Extranjería service option:
What is the Cédula de Extranjería (foreign Colombian ID card)?
The Cédula de Extranjería CE identifies you as a foreigner that's living, working, or studying in Colombia. It's issued by the immigration office (Migración Colombia) after your visa is approved, and is granted to any foreigner with a valid visa other than tourists.
First time applying for an M Business Investment Visa and a Colombian Cédula? At Expat Group, we've helped hundreds of expats like you successfully get their Visas and foreign ID cards. Contact us for more information.
NOTE: The Minister of Foreign Affairs can require additional documentation once reviewing your application, for example, certification of criminal background, original partnership contract, constitution document, and company's financial information, among others.
ANNEXE I: TAXES IN COLOMBIA FOR A S.A.S LEGAL FIGURE COMPANY.
 
Tax obligations SAS Colombia
 
 
 
 
 
 
Name
Description
RATE
Periodicity
Chamber of commerce
renewal
Commercial register
% percentage
depending on the assets
every year before
march 31st
Income statement
The income tax has a
national coverage and taxes the benefits derived from the company´s ordinary
operations. The occasional earnings tax is complementary to the income tax
and taxes the benefits derived from not ordinary operations.
Income tax: 35%
para 2022
Annual
Value Added Tax (IVA/VAT)
Indirect national
tax over-provision of services, sell and import of products.
Three rates  depending on service or good: 0%, 5% y 19%
Bimonthly or quarterly
Excise tax
Indirect tax that
charges the productive sectors vehicles, telecommunications, food, and drinks.
4%, 8% y 16%
Bimonthly o quarterly
Industry and
Commerce Tax
Applied to
industrial, commercial, or service activities in the local jurisdiction, for a
contributor with or without commercial establishment. Charged and
administrated by the corresponding municipalities or districts.
Between 0,2% and
1,4% of the company's income.
Annual, and credit
monthly.
Signs and boards Tax
Is paid for
installing signs in public space and is declared as a 15% of the Industry and
Commerce tax.
15% of the Industry
and Commerce
Annual, and credit
monthly.
Annex II: JOINING EMPLOYEES TO SOCIAL SECURITY INFORMATION
Every legally-established enterprise in Colombia, when contracting employees legally, is in the obligation to affiliate and contribute social security for Health, Pension, Occupational health and safety (ARL), and Compensation fund.
Annexed percentages on the wage that must be contributed to each entity.
Contract: Full Time
 
Employer
Employee
Total
Pension
12%
4%
16%
Health
8,5%
4%
12,5%
Occupational risks-
Level I
0,5%
 
0,5%
Compensation fund
4%
 
4%
Total
25%
8%
33%
REMEMBER: It is important that the enterprise operates, declares its taxes, and has transactions in the corporate bank account. That, in order to be able to renew your visa in the future.