Since the pandemic, remote work has become the new normality for many people, facilitating a more practical lifestyle that allows them to travel the world and continue to develop their jobs remotely. Therefore, Colombia has bet on the new digital nomad visa.
On July 22, 2022, the Ministry of Foreign Affairs issued Resolución 5477 with changes in the legislation of Colombian visas, among the changes include new visas such as the long-awaited by expats who want to work remotely from Colombia: Digital Nomad.
This is a great advance and benefits hundreds of travelers entering Colombia, as our country is a great attraction for its geographical location, gastronomy, and currency exchange.
Although it will not be possible to apply for this visa until October 2022, in this blog we tell you the essentials so you can be prepared.
Who can apply for the digital nomad visa?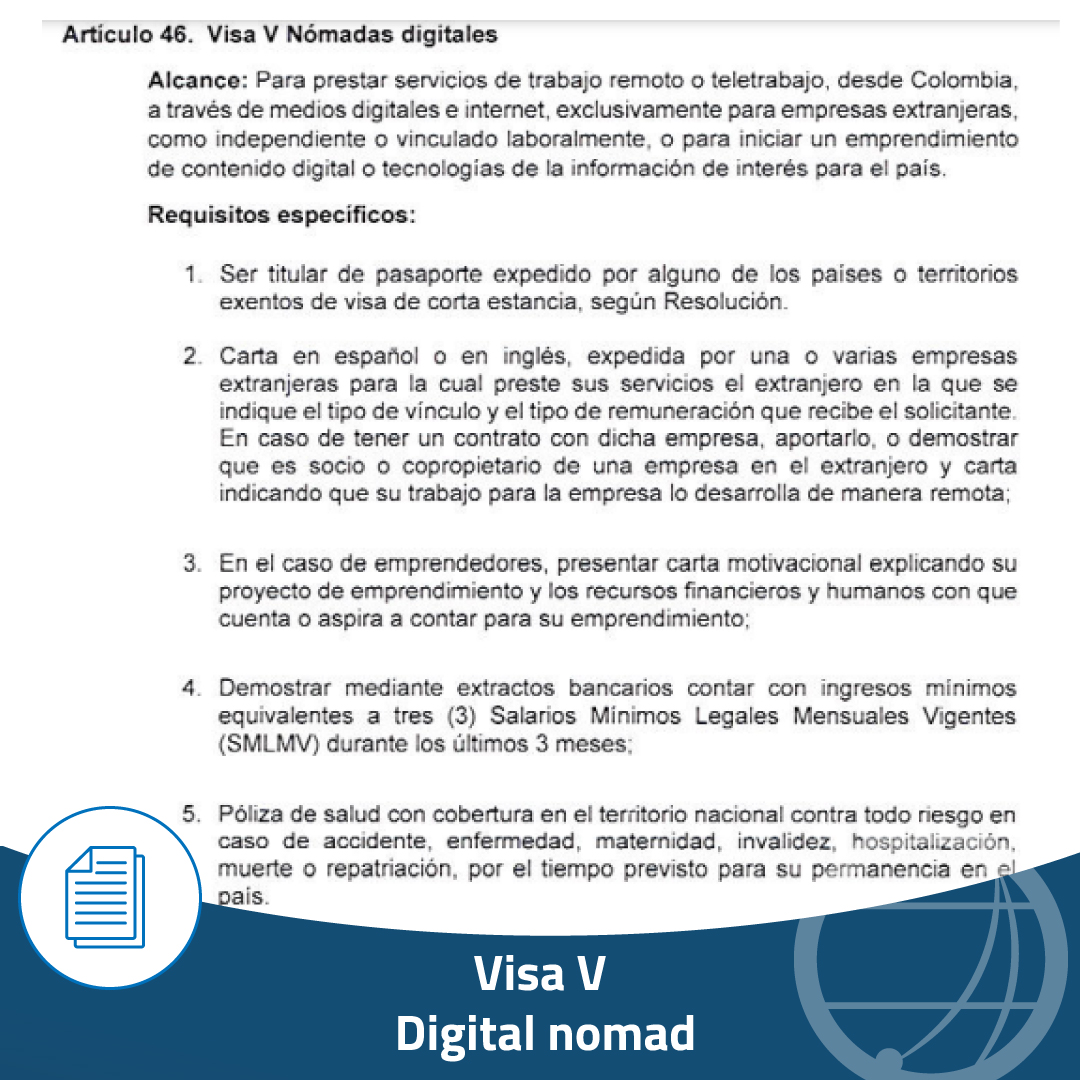 a). Visa V Digital Nomad – Resolución 5477 de 22 de julio 2022
The new Colombian digital nomad visa is designed for foreigners who carry out their work activities remotely exclusively for foreign companies either as independent or employed.
This type of visa may also be applied for by foreigners who wish to start a digital content or information technology start-up of interest to Colombia.
What are the requirements to apply for the digital nomad visa?
 The requirements initially established by the Ministry of Foreign Affairs are:
 Hold a passport issued by one of the countries or territories exempt from short-stay visas.

 Letter issued by one or more foreign companies for which you provide your services, indicating the type of contract and the type of remuneration you receive. In case of having a contract, prove that you are a partner or co-owner of a company abroad and a letter indicating that your work is remote.
 In the case of entrepreneurs, present a motivational letter explaining their entrepreneurial project and the financial and human resources they have or aspire to have for their venture.

 The last three bank statements show a minimum income equivalent to three legal monthly minimum wages in force.

 Health policy 
Which health policy is accepted by the government for the digital nomad visa?
In order to comply with this new mandatory requirement, and that you can successfully apply and obtain the Colombian digital nomad visa, you must take into account the following:
1. Choose a reliable and internationally recognized insurance company.
2. Make sure that the policy has coverage against ALL RISKS in case of accident, illness, maternity, disability, hospitalization, and even death and funeral repatriation.
Verify that the policy has coverage in Colombia and that the effective dates correspond to the total expected time of your stay in the country.
At expatgroup.co we have alliances with the best international insurance companies. Our allies have a track record of more than 20 years, with direct coverage in more than 190 countries, multilingual operators, and with support in assistance from the best health care providers in Colombia.
Below, we present our two health policy options for the digital nomad visa. By clicking on the Assist Card button, you will be able to get a quick quote for the plan that fits your needs and budget, and most importantly, you will have the peace of mind that the Colombian government accepts these policies for your visa application.
What is the difference with the Freelance visa?
Unlike the type V Digital Nomad visa, the type M Freelance Visa is granted to foreigners who want to practice their profession independently in Colombia. For this reason, with this visa, you will have work permission exclusively for the profession or activity for which it was granted.
As for the Visa type V Digital Nomad, the opposite happens, foreigners will be able to legally stay in the country and work remotely for foreign companies. In this case, there will be no authorization to be hired and work directly with Colombian companies.
How long can I stay in Colombia with the digital nomad visa?
To understand how the legal stay in Colombia works, we must distinguish between two concepts:
Validity is the maximum period of validity of a visa granted by the Colombian government. According to Resolution 5477, the validity may be up to two years in the digital nomad visa. However, you must remember that the time granted is subject to the discretion of the Colombian government, so it will be the Ministry of Foreign Affairs that will determine the final time of validity.
Authorized stay in Colombia:
It is the authorized time that a foreigner has to stay in the country legally making use of the foreigner's visa. 
With some types of visas, although they may be issued with a validity of, for example, one year, the government regulates that the foreigner may only have an authorized stay with such visa in Colombia for a maximum period of 180 days. 
However, according to Resolution 5477, the type V digital nomad visa does not have a specific time limit to stay in Colombia. Example:
If the Ministry of Foreign Affairs approves and issues you a type V digital nomad visa with a validity of two years, you may stay the entire two years in the country if you wish.
Why do some people think they can only stay 180 days in Colombia if they have a type V digital nomad visa?
There is confusion regarding the paragraph of Article 46 of Resolution 5477, which stipulates the following:
«Digital nomads, remote workers, and digital entrepreneurs of nationalities that do not require a visa for a short stay, established by Resolution, may enter without a visa and stay in Colombia with an Entry Permit granted by the immigration authority, under the current regulations; provided that their stay in the country does not generate payments from Colombian companies and their period of stay does not exceed 90 days which may be extended up to a maximum of 180 continuous or discontinuous days calendar year.»
What the rule indicates, according to the above, is that people who do not need a visa to enter Colombia can execute their activities remotely and as digital nomads in the country for 90 days with the possibility of extending them for another 90 days, and are not required to apply for a visa. However, if they wish to have a more extended stay in the country, they may apply for the V digital nomad visa, which the Colombian government may authorize for a maximum of up to 2 years.
Costs, Validity and Restrictions
Although the Colombian Government has not yet released official rates, it is estimated that the costs may be:
Apply for your Colombian visa with an expert agency
With recent regulatory changes and the legal, immigration, and regulatory implications associated with visa processes, it is advisable to receive professional advice and leave the process in the hands of experts.
At expatgroup.co we have thousands of successful cases. We will be happy to help you increase your approval process to obtain your digital nomad visa in Colombia in an easier, faster, and more equitable.
EXPATGROUP.CO VISA SERVICE
Includes migratory advisory
Visa submit and registration
Registering visa / requesting "Cédula de Extranjería"