At expatgroup.co, we are a committed team, not only professionally, because we fulfill our philosophy of changing lives, and we do it with the details, with our specialized, close and human advice. We are pleased to know that we contribute to making the dreams of foreigners come true; dreams of studying, doing business, investing, retiring, or living in Colombia.
With this in mind, we are happy to see the projects that our clients develop and how they raise the name of Colombia as the country of new opportunities.
This is the case of Yusnibel Pazos, who has worked to make small businesses more and more noticeable in the market through digital strategies for many years. That is why he created Smartners Business, a company with a wide range of services, such as website design, graphic design, and marketing for businesses.
To be able to continue with his project, expatgroup.co processed his Visa M Type Business, which allows to create, lead, and supervise a company or business. Yunisbel's case will enable him to continue leading her company as CEO of Smartness Business.
Yunisbel's visa processed through expatgroup.co
Yunisbel visited us in our office we talked about what motivated him to live in Colombia; he shared his opinions about the country, his business visa process, and his project. Let's listen to him.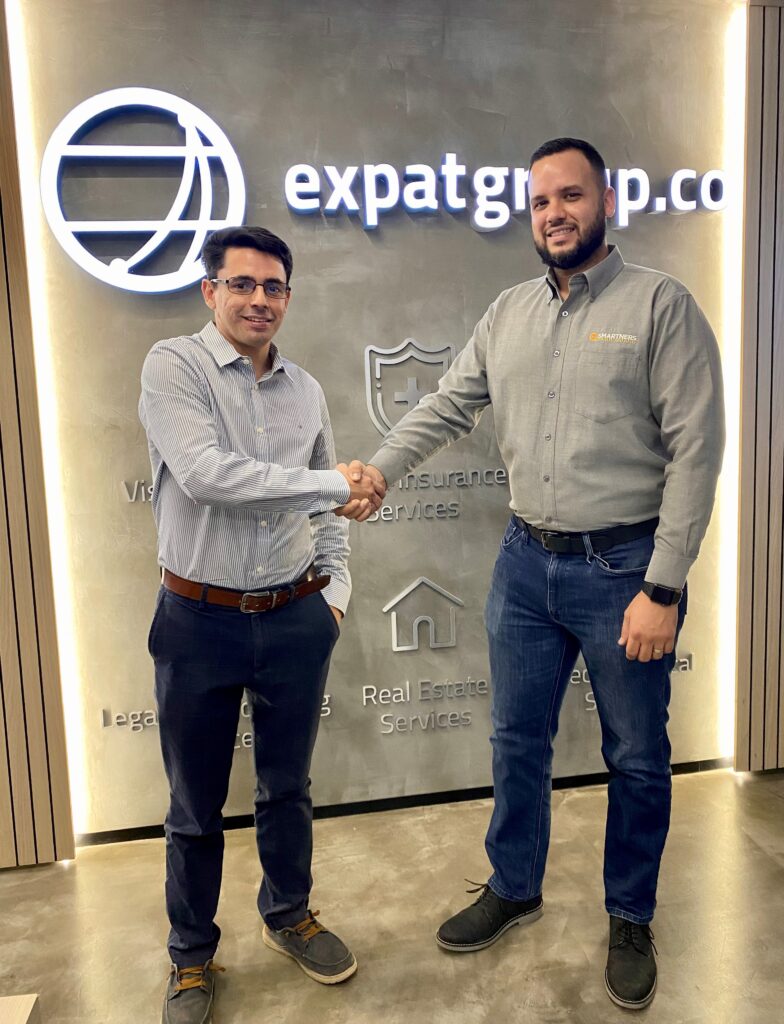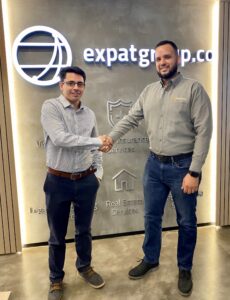 When was the first time you came to Colombia, and what was your first impression?
The first time I came to Colombia was about five years ago, in which I came to, look into opening my business, my marketing business and, when I came to Colombia for the first time, I really thought of different things about it, but as just landing here and, you know, tasting the food and, seeing the environment, everything I, I fell in love with the city.
What were your reasons for settling in Colombia?
Were mainly to, to begin my business. I was looking for, a cheaper option where I can, have employees and control, what was happening with my marketing business in the United States
What do you enjoy most about living in Colombia?
what I enjoy most about living in Columbia, really is a little bit of everything, the environment here is great, the weather is amazing. The people here are very nice, the food here is, is outstanding.
Tell us, please about your professional profile and your project: Smartness Business
Regarding my professional profile, I've been working with businesses. For over 15 years, starting with companies that I used to work for and to getting into my own company about six years ago. I help businesses generate more customers and increase sales by helping their brands grow, with many different methods, including things like marketing as well as, design to help their brand grow.
What is your projection with Smartners Business for the next few years, and what profile of clients and suppliers is your company interested in?
My, my plans, for the next few years really are to continue to grow my company, to continue to help businesses grow and, help them with things like marketing and helping their brands grow with different designs.
My ideal client, would be basically, mostly small business, medium business, even large business, but, Starting with a small business, helping them establish, helping them, establish their brand and getting customers, to start recognizing their brand, helping them get their foot in the door and continuing, to work with them as they continue to grow into medium and large size businesses.
Tell us about your business visa process regarding time requirements and difficulty
My business visa process, was actually much smoother than I thought it would be. I actually had experience working with two attorneys before this, before working with the expatgroup.co, and in reality, it didn't go very well.
I spent some time actually looking and even paying just to interview with some of these attorneys to see. what come out of it and, working with expatgroup.co was actually great. I have no complaints at all from the very beginning. They were very, professional
Why did you decide to process your Business visa through expatgroup.co?
I decided to process my visa, through expatgroup.co because, I had been in a couple of groups on the internet and, a lot of people have spoken well about them as well as other attorneys.
Eventually, I got to expatgroup.co in which they actually. walk me through the process. They explained everything to me, put, their words into actions. And we actually went ahead and, did all the paperwork, everything necessary, ran around to get everything to eventually get my Visa
What are the advantages and disadvantages of processing your visa through an agency rather than doing it yourself?
The advantage of processing a visa with an agency it speaks for itself is the legal part of any government, even the Colombian government's is extremely difficult. Expatgroup.co has experience already working with customers. Doing this. So I decided to go directly with an agency.
Just thinking about the loss is very difficult between the accounting part, between the actual legal part, between the requirements for visas. Everything's extremely complicated.
What would you recommend to other foreigners who have doubts or fears about living, investing, and doing business in our country?
A lot of people here or say a lot of things, speculation about what you see in the movies, things like that. I decided to come to Colombia and see it for myself and just see what everything was about at the end of the day.
So just being able to come here and experience it myself, I would say that's just what you. have to come to experience it for yourself, see for yourself what Colombia has to offer for you
Smartnes Business Invitation
Hi, my name is Yunisbel. I am the CEO of Smartners. We help companies with marketing as well as business development, Graphic design, helping their companies better every single day and grow their business. We invite you to come to visit our website.
We invite you to come contact us and we'll help you set up a great strategy. We'll allow you to generate more clients and continue to grow your customer base.
Make your processes with expatgroup.co
Whether you want to start a business, study, travel around Colombia, invest or live permanently here, we help you with all the legal and immigration processes so you can achieve your goals.
In addition, we are a company that is growing every time we try to offer complete solutions and services, that is why we update ourselves according to the needs of our clients and new requirements of the Colombian government.
Therefore, you will find complementary services such as health insurance, tourism stamp extension, apostille service for American citizens, and the benefits letter certificate.  Even if you are considering investing in buying property in Colombia, we are your allies.
Refrain from letting the requirements overwhelm you and keep you away from the experience of living in Colombia. Contact us now!
Why should
I use expatgroup.co services?
Create a Colombian company
Incorporation of a company in COLOMBIA
NIT Presentation
Initial accounting documents
Opening balance
RUT
Shareholder structure
*Prices do not include: VAT, Colombian state filing fees